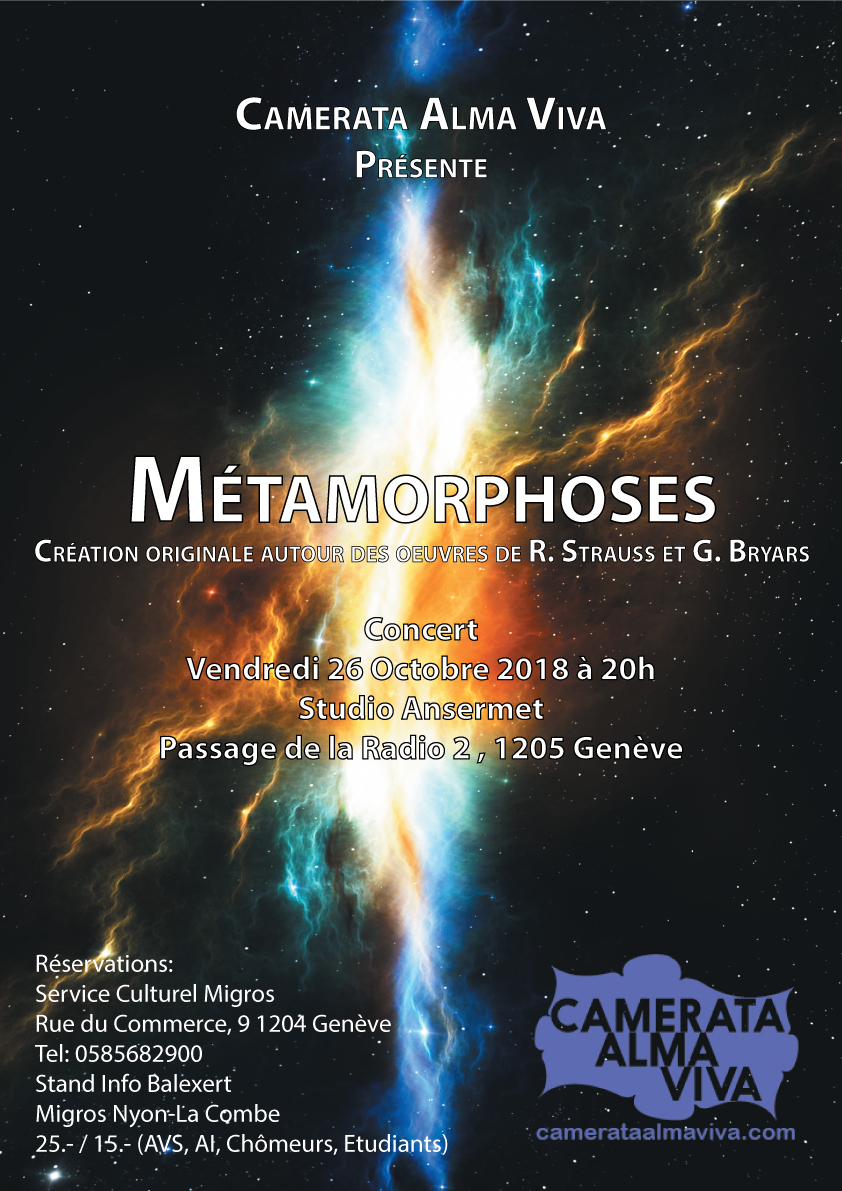 Camerata Alma Viva comes back with a brand new project and a reflection on Time, Cycles and Metamorphose
The program will articulate around Richard Strauss's famous Metamorphosen, a meditative poem built on the second element of the Funeral march theme from Beethoven's Eroïca Symphony, which vast arch structure (written in 1945) evokes a Requiem without word. We shall quote poems from Goethe, big inspiration to the composer at the time of the creation of this piece.
"No one can really know himself,
detach himself from his inner being
Yet, each day he must put to the test,
What is in the end, clear.
What he is and what he was,
what he can be and what he might be."
Goethe
The programme will also include Gavin Bryars's work, Jesus Blood Never Failed Me Yet.
"In 1971, when I lived in London, I was working with a friend, Alan Power, on a film about people living rough in the area around Elephant and Castle and Waterloo Station. In the course of being filmed, some people broke into drunken song – sometimes bits of opera, sometimes sentimental ballads – and one, who in fact did not drink, sang a religious song "Jesus' Blood Never Failed Me Yet". This was not ultimately used in the film and I was given all the unused sections of tape, including this one.
When I played it at home, I found that his singing was in tune with my piano, and I improvised a simple accompaniment. I noticed, too, that the first section of the song – 13 bars in length – formed an effective loop which repeated in a slightly unpredictable way [in the notes for the 1993 recording on Point, Bryars wrote that while the singer's pitch was quite accurate, his sense of tempo was irregular]. I took the tape loop to Leicester, where I was working in the Fine Art Department, and copied the loop onto a continuous reel of tape, thinking about perhaps adding an orchestrated accompaniment to this. The door of the recording room opened on to one of the large painting studios and I left the tape copying, with the door open, while I went to have a cup of coffee. When I came back I found the normally lively room unnaturally subdued. People were moving about much more slowly than usual and a few were sitting alone, quietly weeping.
I was puzzled until I realised that the tape was still playing and that they had been overcome by the old man's singing. This convinced me of the emotional power of the music and of the possibilities offered by adding a simple, though gradually evolving, orchestral accompaniment that respected the homeless man's nobility and simple faith. Although he died before he could hear what I had done with his singing, the piece remains as an eloquent, but understated testimony to his spirit and optimism." G. Bryars
Friday 26 of Octobre 8PM
Studio Ansermet
Passage de la Radio 2, 1205 Geneva, Switzerland
Further information and booking