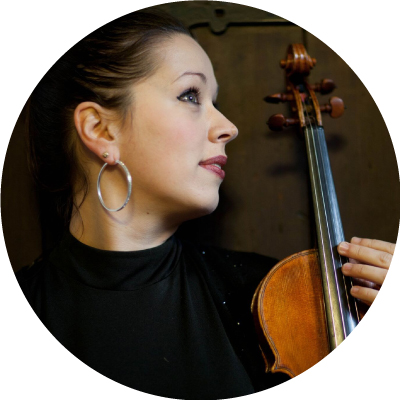 Ivana Ćetković, an exciting and vibrant Serbian violinist and baroque violinist, has maintained a wide and varied career as concerto soloist, recitalist, orchestral and chamber musician.
She has received her Bachelor's degree (HONS) in Violin performance from Faculty of Music Arts in Belgrade, Serbia and her Masters and Artistic Diploma degree from Guildhall School of Music and Drama, London, United Kingdom. Ivana's teachers included David Takeno, Arisa Fujita, Rachel Podger and Jacqueline Ross.
After completing Masters in Music Degree, she was awarded a 2 year fellowship at the Guildhall School in London. She appeared as soloist and chamber musician at various concert halls such as Wigmore Hall, Barbican Centre, St John Smith's Square, Queen Elisabeth Hall, Purcell Room and many more in England and abroad.
Ivana lives in London but her work takes her all across Europe. She is a CoLeader of Innstrimenti Kammerorchester in Innsbruck, Austria and since 2017 a member of Sinfonieorchester Liechenstein.
Still a passionate chamber musician Ivana regularly performs all around UK with a pianist James Adutt as a part of violin and piano Duo Elmbourne Ensemble founded in 2011. She has also been appointed a leader of Thursford Christmas Spectacular Orchestra for the 2017 season musical that runs for two months every year around Christmas time.
In England Ivana enjoys a busy freelance career performing with Scottish Chamber Orchestra, Royal Northern Sinfonia, Hallé Orchestra, English Chamber and many more.