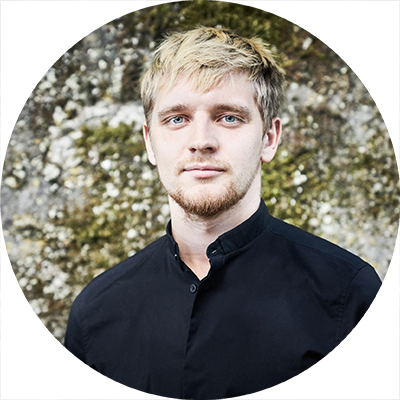 Raivis comes from Riga, Latvia. From his early childhood he sang in a boys' choir. At the age of 12 he was impressed by the sound of a symphony orchestra and he immediately applied to a music school. He played the French horn for six years, though upon entering the Specialist Music High school in Riga at the age of 18, he switched to double bass. Raivis won 1st prizes at Youth State competitions in Latvia on both instruments. Around that time the renowned composer Pēteris Vasks became his mentor for four years.
Raivis was given an entrance scholarship to the Royal Academy of Music in London where he studied modern double bass with Graham Mitchell and Dominic Seldis, and baroque bass with Chic-chi Nwanoku and Cecelia Bruggemeyer. During his studies Raivis received coaching from Matthew McDonalds, Joel Quarrington and Bozo Paradžik. In 2014 Raivis composed a double bass quintet which was performed in a public masterclass with Maxim Vengerov. Raivis's main focus is baroque and contemporary music, having performed with the London Sinfonietta, Latvian National Symphony Orchestra, Royal Academy's Manson Ensemble under Oliver Knussen and Ensemble x.y. Raivis performed his solo compositions at SANSUSĪ festival in Latvia, he was/is regularly involved in Kohn Foundation's Bach Cantatas series and he has had workshops and concerts with Sir John Elliot Gardiner through the MCO Apprentice scheme 2016-2017.
Alongside freelancing as a double bassist, Raivis continues writing music under the tutelage of composer Artur Avanesov and he plans to pursue studying composition.
Raivis's music can be found online at: https://soundcloud.com/raivis-misjuns